BSSP and Swim England Training Courses
We urge schools to book on to courses in good time, rather than leaving this close to your school swimming commencing, as courses fill up quickly.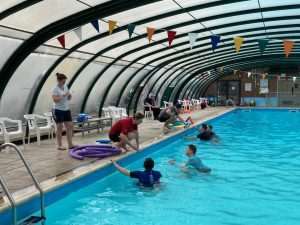 Delegates must be able to swim 25m and be confident in the water to undertake the Support Teacher of School Swimming course.  Please ensure your delegate can swim.
We are not going to ask you to demonstrate your swimming ability – when putting together these courses we need to put everyone's safety first.
We want you to be able to fully engage in the practical (pool) element of the course and to highlight a recently overheard comment; I didn't realise it was so hard to blow an egg-flip over – exactly, and what even is an egg flip? The pool element is there for delegates to experience what students are being asked to do – and therefore the relevant encouragement/feedback can be given.
Stage 1:  Support Teacher of School Swimming Course MUST be completed before undertaking the Stage 2:  Teacher of School Swimming Course
Swim England highly recommends that you complete further CPD within a 5 year period by either upskilling to Teacher of School Swimming or undertaking a Refresher course.  Once 5 years has elapsed, you would be expected to retake the Support Teacher of School Swimming course again.
For more details on our courses please call Sharon on 01296 388222 x 421 or email us at; [email protected]